Bootstrap 5 is now available in our visual editor!
Benedykt Michalski
Inspirational Writer
Finally, we've added support for Bootstrap 5. It is the newest version of this most popular CSS framework.
You can choose it as a base framework when creating a new project (Try demo):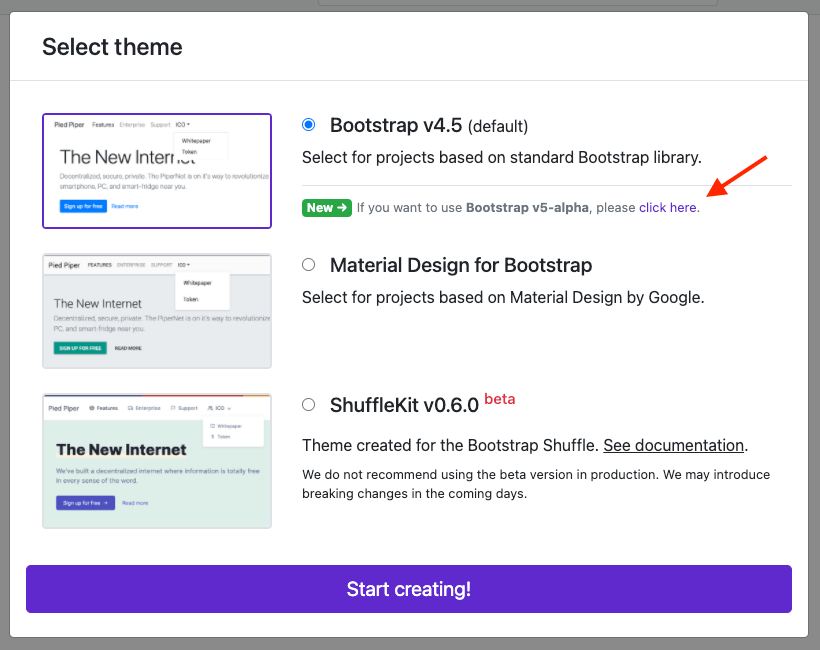 Important note: Bootstrap 5 is currently in the alpha version. Please read the message from the official Bootstrap blog before you'll decide to create a new project using this version:
We've been working hard for several months to refine the work we started in v4, and while we're feeling great about our progress, there's still even more to do.
We've been focused on making the migration from v4 to v5 more approachable, but we've also not been afraid to step away from what's outdated or no longer appropriate. As such, we're very happy to say that with v5, Bootstrap no longer depends on jQuery and we've dropped support for Internet Explorer. We're sharpening our focus on building tools that are more future-friendly, and while we're not fully there yet, the promise of CSS variables, faster JavaScript, fewer dependencies, and better APIs certainly feel right to us.
Before you jump to updating, please remember v5 is now in alpha—breaking changes will continue to occur until our first beta.